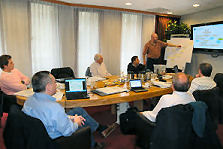 During past decades TRIZ-based Systematic Innovation has been producing a considerable impact worldwide. Leading companies and thinkers select TRIZ and Systematic Innovation to solve problems which demand innovative solutions, to cut costs in an innovative way, and generate concepts for new products and services in a systematic way to accelerate innovation and achieve innovative leadership.
We provide a full range of the highest quality training and certification services: both public and in-house which help you to learn TRIZ-based Systematic Innovation for technological and non-technological applications and master practical skills with its contemporary tools. We possess many years of extensive practical experience of training in TRIZ and Systematic Innovation with over 100 customer organizations worldwide.
Participants of our courses who successfully completed corresponding training programs receive certificates from the TRIZ Training International Centre and for certain courses certificates from the International TRIZ Association MATRIZ.

Our principal trainer Valeri Souchkov is certified TRIZ Master and active TRIZ developer and author of the courses. He introduced first public TRIZ training courses in Western Europe in 1993. All our courses include the latest advances of TRIZ to enable maximum effectiveness of learning. In 2009, we founded TRIZ Training International Centre to bring our training programs worldwide.

All public courses are conducted in English. Please click on "Details" against each course below to get more specific information about a course. To register, please visit the Registration page. Discounts are available for multiple participation, existing customers, early payment, and for educational institutions.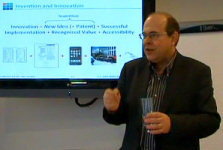 We also provide "train-the-trainer" group and individual coaching programs, as well as accreditation and licensing of our programs and training materials to trainers in different regions of the world.