TRIZ Training International Centre (TTIC) was established in 2009 by ICG Training and Consulting to promote and further disseminate TRIZ and Systematic Innovation as well as to ensure and provide the highest quality of training around the world.

TTIC offers and performs training and certification in the following subjects:
Classical TRIZ
Modern tools of TRIZ, xTRIZ, and Systematic Innovation
Systematic Creative Imagination Development
Currently TTIC offers training publuc and in-company training as well as individual training and coaching and skills development in the following areas:
Technology and Engineering
Business, Management and Entrepreneurship
Social Areas and Learning
TRIZ Training International Centre is formed by a group of independent trainers cooperating under accreditation of ICG Training and Consulting. The trainers perform presentations and training courses by using materials on TRIZ and xTRIZ and Systematic Innovation developed and licensed by ICG Training and Consulting as well as their own materials and case studies. TTIC trainers group is highly competent and grows rapidly.
We provide a full range of the highest quality training and certification services: individual, public and organizations.
TRIZ Training Inernational Centre Accredited Trainers: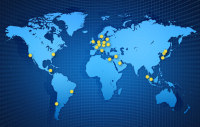 For more information please contact us.

Contact us
| | | | |
| --- | --- | --- | --- |
| | Andrey Kuryan, Belarus | | Orlando Castillo, Chile |
| | Arturo Niño de Zepeda, Chile | | Michal Vallo, Czech Republic |
| | Ago Täkker, Eastland | | Hussein Al Natsheh, Jordan |
| | Ata Al Shatel, Jordan | | Kholoud Al Dosiry, Kuwait |
| | Juan Pablo Esklidsen, Panama | | Aitor Uribeetxebarria Basañez, Spain |
| | Osama Al Shakhs, Saudi Arabia | | Saleh Al Zahrani, Saudi Arabia |
| | Saeed Asiri, Saudi Arabia | | Hongyul Yoon, South Korea |
| | Valeri Souchkov (Chair), the Netherlands | | |
| | | | |