GLOSSARY OF TRIZ AND TRIZ-RELATED TERMS
Version 1.0
V. Souchkov, 2014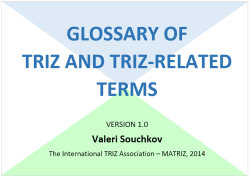 The Glossary of TRIZ and TRIZ-Related Terms is intended for practitioners, developers, researchers, scientists, teachers, students involved with the Theory of Inventive Problems Soling (TRIZ).

The current version of the Glossary includes descriptions of 360 terms which have been repeatedly used in TRIZ publications. The Glossary has been compiled on the basis of terms which belong to both classical and contemporary TRIZ. The Glossary includes both unique TRIZ terms and commonly used terms which are used within specific context in TRIZ. During compilation of the list of the terms various sources were used.

Most of the definitions of the terms are original to provide concise structure and consistency of the entire Glossary. Definitions were given directly in English. A number of relatively new TRIZ terms do not have original Russian translation or remained undefined therefore the Glossary provides their definitions as well.

The Glossary was created by initiative of the International TRIZ Association (MATRIZ) and will be regularly updated.

Please contact us for comments and proposals.

The Glossary is freely downloadable.